Family Sesarmidae (Dana, 1851) – Mangrovenkrabben / Mangrove Crabs
Type species. Sesarma edwardsii De Man, 1887, by original designation. Gender neuter. Included species:
Sesarma edwardsii De Man, 1887
Sesarma edwardsii var. crassimana De Man, 1887
Pseudosesarma anteactum Ng & Schubart, 2017
Pseudosesarma glabrum Ng, Rani & Nandan, 2017
Pseudosesarma brehieri Ng, 2018
Chiromantes boulengeri Calman, 1920.
See: Schubart C.D. & P.K.L. Ng (2020): Revision of the intertidal and semiterrestrial crab genera Chiromantes Gistel, 1848, and Pseudosesarma Serène & Soh, 1970 Crustacea: Brachyura: Sesarmidae), using morphology and molecular phylogenetics, with the establishment of nine new genera and two new species. Raffles Bulletin of Zoology 68: 891-994.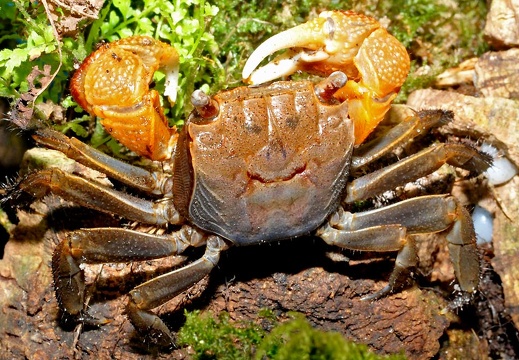 Pseudosesarma crassimanum (De Man, 1887)

Verbreitung / Distribution: Thailand, Peninsular Malaysia, Singapore, and Borneo


Pseudosesarma edwardsii (De Man, 1887)

Verbreitung / Distribution: Mergui Archipelago and Andamans to Peninsular Malaysia and Singapore, possibly to Java and Sulawesi